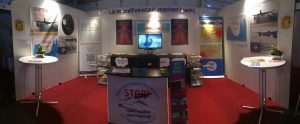 The Rheinland-Pfalz Exhibition in Mainz, Germany, has once again a booth on the aircraft noise problems in the Rhein-Main area (Hall 7 booth # 736). This booth is built and organized by the local group 'Lebenswertes Mainz und Rheinhessen e.V.'.
In hall 6, booth # 610 'Trullo mit der Stille-Gruppe' shows the activities of the city of Mainz.
The exhibition will last until March 26, 2017.