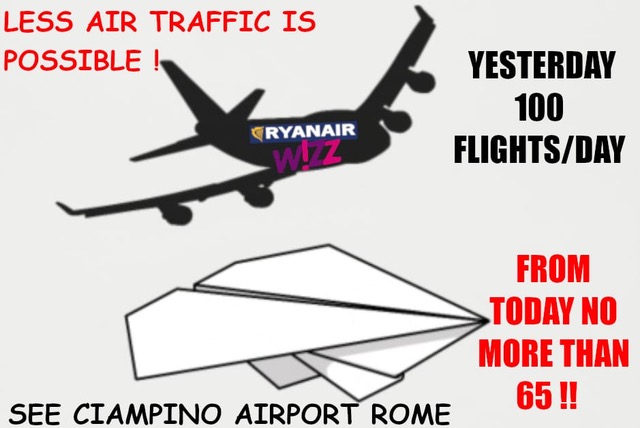 It will be the task of the Air Force Authorities to immediately announce the IATA World Conference on June 7, 2021 the new limit to 65 daily flights (landings+decolli) to enter into force as early as October 31, 2021.
It's great news for the thousands of inhabitants of Ciampino, Marino and Rome South, affected by years of noise beyond the law and subjected to major air pollution.
With two judgments published today, relating to appeals from Ryanair and Wizz Air, Tar Lazio gave its green light to the reduction of flights at Ciampino airport.
The two judgments are immediately implemented, it will be the responsibility of the national aeronautical authorities, starting with Enac, to immediately launch procedures to make Tar's decision work.
The deadline is that of the annual IATA conference (organization of world airlines, June 7, 2021, where the slots (landing and take-off rights) are treated for the winter schedule of all open airports to civil traffic.
Hopefully the traffic reduction in Ciampino airport will be active since the end of October 2021.
Tar Lazio in its judgments rejected, point by point, all the grounds of appeal presented by the two airlines against the application of the Ministry of the Environment's decree for the return of the airport within the limits of noise pollution laid down by law (DM Environment No .. 345 of 18/12/2018, signed by Minister Costa).
It's a great victory for citizens who have been fighting for years for respect for law limits and for a better quality of life, with over 2000 complaints to the judiciary, with a request for a Community breach procedure that produced the EU investigation EU Pilot 6876/14 / ENVI, submitting a petition in Brussels to the European Parliament and with years of protests at all levels.
A thank you for this result also goes to the Administrations at all levels and the Entities, starting with Arpa Lazio, who for years, despite the imaginable difficulties, have supported us in this battle.
Link to Decree No. Minister Costa's 345 of 18/12/2018: https://www.minambiente.it/pagina/inquinamento-acustico/
Original message: https://www.facebook.com/pg/CiampinoCriaac/posts/