In addition to our last message we contacted Lars Brogaard of the union of airport workers at Copenhagen Airport (CPH), who was mentioned in the 2012 report about threatened health. We asked him the state of affairs five years later. His answer was rather optimistic, referring to a Danish newsletter of June 2017. 'Yes, things are going better in Copenhagen. We have managed to reduce the air pollution where our members are working. But it's important to say, that some of the pollution is moved to other areas of the airport.'

Part of the newsletter: In November 2016, the annual 'Airports Going Green' conference was held in Amsterdam. In connection with the conference, CPH, as one of six companies, was chosen to receive the 'Airports Going Green Award 2016′.
The award was given as a recognition of the air quality program and excellent work on integrating sustainability in the aviation industry. The air quality program is a cross-organisational program,
where they involved counts airlines, ground dealers and trade unions, in  Denmark represented by 3F.
The prize was awarded to Jesper Jacobsen from CPH's Environment Department, who is the leader of the air quality program. 'It's fantastic that it's noticed what we do, because that inter-organisational collaboration is unique and we were the first airport in the world that took the challenge of ultra fine particles. We created a number of solutions that let benefit the environment and the functioning of the airport,' Jacobsen said.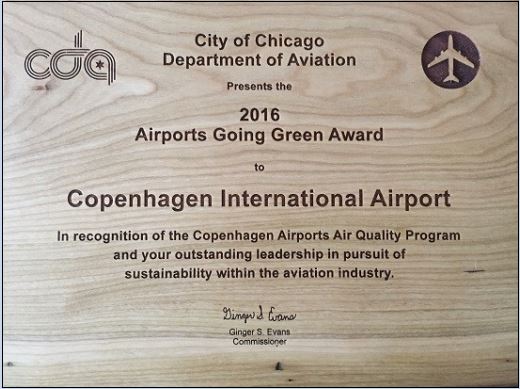 The winners were elected by an independent jury consisting of a number of airport specialists and consultants.
As Brogaard remarked: moving pollution is something different than removing pollution. And, as the text in the news letter continues, the win is mostly from cleaner diesel engines.
It is important that there will soon be more research on the effects of ultra fine particles (especially from aircraft) on the health of people living near airports, for example in the Netherlands in the Schiphol area.