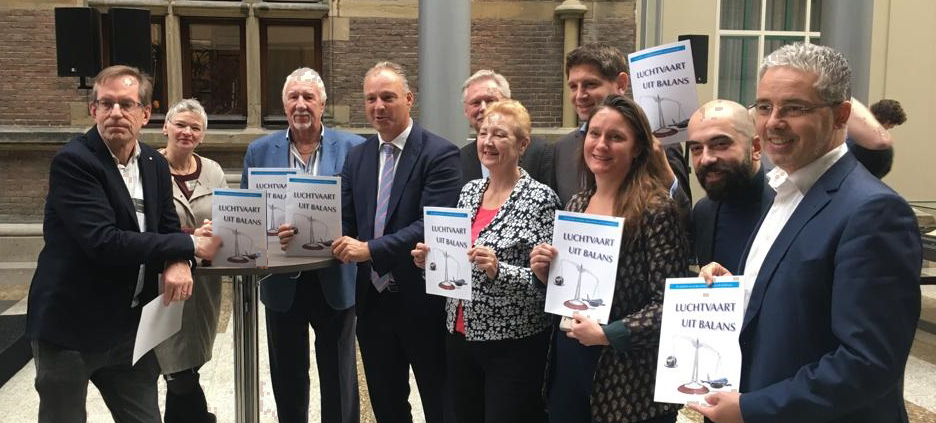 On 26 November, we, a delegation of Amsterdam citizens groups presented their research report Aviation out of balance to the Commission of Infrastructure and Water Management of the House of Representatives in a petition.
The conclusion of the study is that Schiphol serves the public interest by de-hubbing the airport. This improves the quality of the network and reduces the burden on the environment. In policy terms this is called a win-win situation.
In conversations with Schiphol CEO Dick Benschop we asked him why aviation is so important to the economy. What is a high-quality network? What about that job engine? Why is standing still deteriorating? What is Schiphol's public interest? We received no satisfactory answers and asked two well-known transportation economists, Walter Manshanden and Leo Bus, to review these aviation industry mantras.
Schiphol does not have a high-quality network
Among other things, the report answers the question: what exactly is a high-quality network? This is a connection between the Netherlands and economically powerful regions for business traffic. Does Schiphol meet these criteria? Answer: no; The Netherlands ranks 9th in terms of network quality; after Switzerland and before Norway. There is a lot of mass transport, but that is not economically interesting.
Is Schiphol a job engine? Answer: Schiphol involves many jobs, but growth or shrinkage plays a minor role in the number of jobs. And employment at and around Schiphol competes with the job market of the Amsterdam Metropolitan Area. There is talk of displacement. A remarkable outcome!
The researchers' conclusion: Less flying creates space for more innovative economic activities. Less flying really reduces nuisance, helps against pollution, makes the environment healthier and reduces danger. And creates space for housing. You only see it when you realize it.
With this report, we want to contribute to the discussion about the future of aviation in the Netherlands. Hopefully, the report will help to make good assessments of the public interest of the airport.